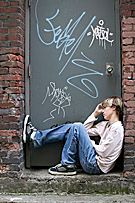 The first step in helping abused or neglected children is learning to recognize the signs of child abuse and neglect. The presence of a single sign does not prove child abuse is occurring in a family, but a closer look at the situation may be warranted when these signs appear repeatedly or in combination.
If you do suspect a child is being harmed, reporting your suspicions may protect the child and get help for the family. Any concerned person can report suspicions of child abuse and neglect. Some people (typically certain types of professionals) are required by law to make a report of child maltreatment under specific circumstances—these are called mandatory reporters.
For more information about where and how to file a report, contact your local child protective services agency or police department.
An additional resource for information and referral is the Louisiana Child Abuse Hotline, available toll-free, 24 hours a day, 365 days a year.
(1-855-4LA-KIDS) 1-855-452-5437. 
(Child Welfare Information Gateway, 2007)
---
In 2017 there were 3,501,407 investigated reports of child abuse or neglect against children in the United States. 
Despite the states' attempts to help, many of these kids become trapped in the court and child welfare maze and can spend their childhood moving from one temporary shelter to another.
 For information on how to recognize signs of abuse, please click here to download a tip sheet on signs of abuse.